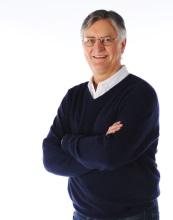 Dick Jung first met Dr. Michael W. Kirst four decades ago. Mike, then professor in the schools of Education and Business, was completing his first year as president of California's State Board of Education. During Jerry Brown's first term as governor, as Mike tacked between Palo Alto and Sacramento, Dick served as the teaching assistant for Mike's Stanford "Politics of Education" course. In 1981, Dick moved to D.C. to become the research director for the National Advisory Council on the Education of Disadvantaged Children, a position Mike had held in the 1960s.
After serving as a senior education analyst at the National Institute of Education and as a director of a policy center for the U.S. Department of Education, Dick took in 1987 what Mike called "Jung's self-appointed exile from policy research" to become principal at St. Louis, Missouri's John Burroughs School. During summers, however, Dick taught education policy courses at Washington University and Maryvale University in St. Louis.
Over the past 25 years, Dick has had a distinguished career leading independent and charter schools:
As the Head of School of the Bullis School in a Maryland suburb of D.C. for 11 years, as the school nearly doubled its enrollment and raised nearly $25 million;
As the Principal of the SEED Public Charter School in Southeast D.C., the country's first urban public college-prep boarding school;
As the Founder of and Senior Partner at his own consulting firm, Education Access Strategies, specializing in executive searches for independent schools;
As the Executive Director for the Association of Independent Schools of Greater Washington assisting 78 of the leading independent schools in the D.C. area.
Dick Jung began researching and writing in earnest for the Mike Kirst Biography Project in 2018.
Dick has served on scores of school and association boards, including currently for the Virginia Association of Independent Schools and The Diener School.
Dick holds a doctorate and a master's degree from Stanford University in education policy; a master's degree in linguistics from Ball State University; and a bachelor's degree in English from the University of Missouri-St. Louis (UMSL). This past December, UMSL awarded Dick an Honorary Doctorate degree. He also delivered the Commencement Address at the Graduation Ceremony for the College of Education, College of Nursing, and School of Social Work.
Now in his 70's, Dick remains an avid cyclist, having biked across the United States, various states, and through parts of China, France, Germany, and Canada. He lives with his wife of 37 years in Bethesda, Maryland.